---
Stopwatches designed for active use.
Every Chronus stopwatch has been designed and created for the real world demands of athletics and sports coaching and with over 4 million downloads in multiple languages since 2012, chronus stopwatches are popular around the world.
Our stopwatches are used for all kinds of timing tasks from professional session timing to race track timing or simply boiling an egg. We have received praise from athletes, track officials and even olympic team coaches for the quallity and accuracy of our timers. Whatever you choose to use a Chronus stopwatch for, the simple, intuitive interface, large clear display and advanced features will make your timing tasks easy.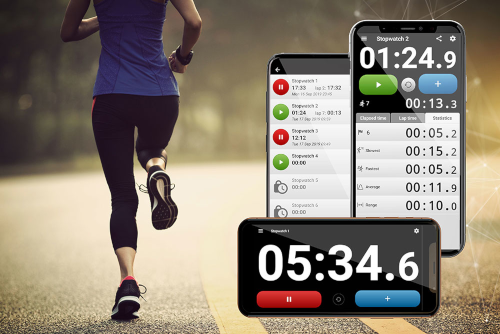 ---
Simple yet powerful multi-use timers
Chronus stopwatches all have highly configurable user interfaces to allow you to view time your way. There are many different ways to use a stopwatch and we have tried to reflect this in our flexible, yet clean & simple UI design.
Clarity is paramount in the design of our stopwatches. Our timers are easy to use with big, bold, coloured buttons and the largest possible text sizes. We use high contrast colors and clear fonts so that our stopwatch display can be easily understood outside in bright sunlight. Stopwatch time data is either auto-scaling or resizable with configurable precision & auto formatting to maximise text size and clarity.
Each stopwatch has multiple tabs for different individual aspects of a timed session, such as laps, splits & session statistics. The tabs can also be swiped left and right for ease of use. This tabbed approach was the orignal design concept that made made Chronus stopwatches different from the competition.
Every stopwatch can be viewed in both landscape and portrait modes. The portrait timer view allows for easy access to all your time data, whilst the landscape view is ideal when you require the largest possible numbers.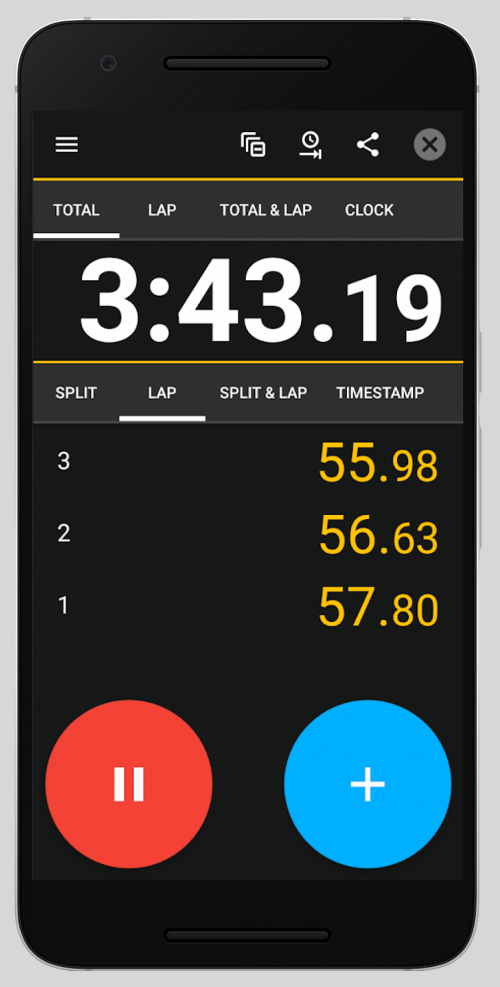 Stopwatch 2 - portrait view
---
Precise & accurate to 1/1000th second.
Chronus stopwatches operate on the principle of first touch precision for maximum timing accuracy measured to the millisecond.
Most other stopwatches are not accurate as they have buttons that require a full press and release that can take 300+ milliseconds to complete. Our stopwatched work via recoding time events to a precion of 1 millisecond against system time, the instant the screen is touched. All our stopwatches have configurable display precision from 1 to 1/1000th with values rounded down for lower precisions.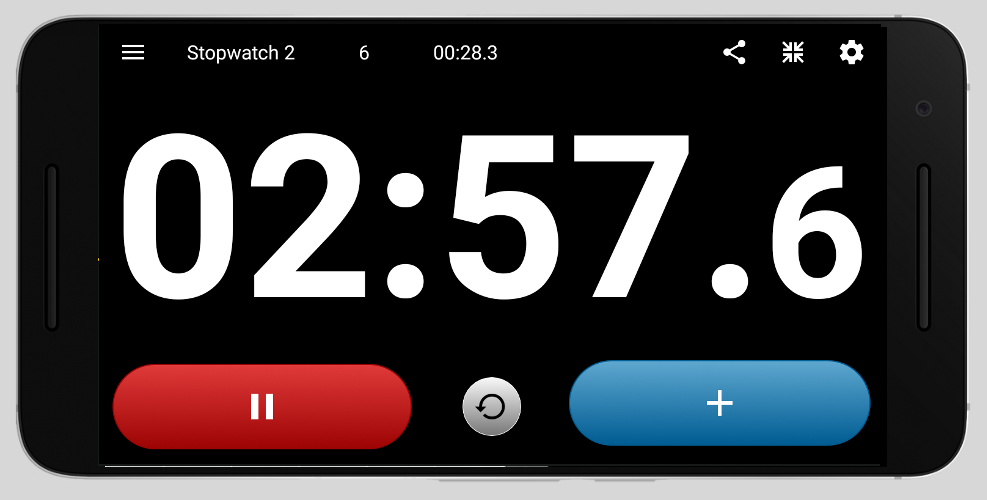 Stopwatch & lap timer - landscape view
---
Full featured, functional & robust.
Our stopwatches are designed to have those important features missing from those of the competition. The challenge was to pack in as many features as wel can whilst keeping the user experience clean and simple.
The most signifant feature that is missing from most other Stopwatchs applications is current lap time. Our stopwatches prominently feature current lap time and even allow for it to be displayed as the main text which is the primary requirement of a lap timer.
Another feature missing on many stopwatches is persistant, robust sessions. A chronus stopwatches session survives after your phone locks, the application closes and even a full device shutdown & restart. Our stopwatch sessions can run for hundreds of hours and have can have up to 999 laps. Timer sessions can also be saved and run concurrently with other sessions. You can trust out stopwatches not to lose your data.
Your device's side volume buttons can also be used to control the stopwatches and our screen display can lock whilst running to prevent accidental button presses and battery drain. These features together allow our stopwatches effectively to be used by runners whilst held or secured by an arm strap.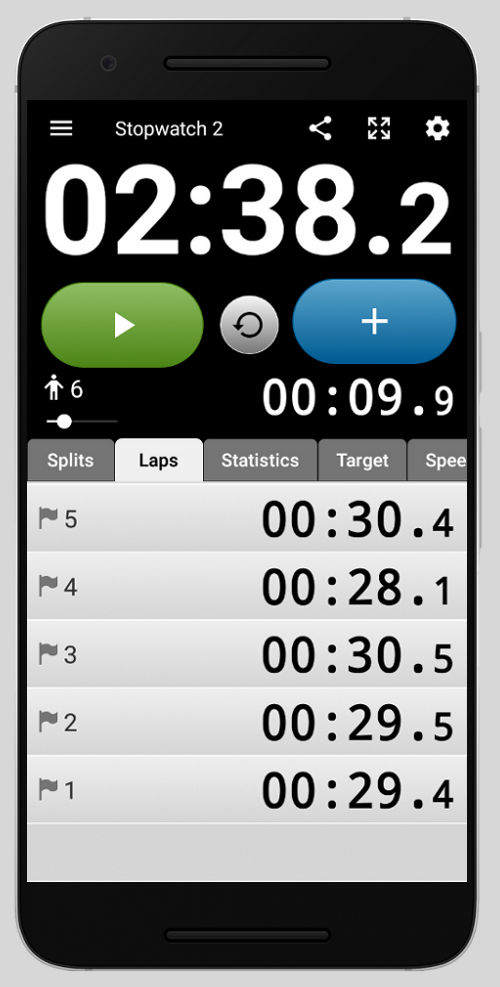 Stopwatch & Laptimer - portrait view
---
---
---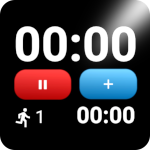 The original sports stopwatch with an amazingly intuitive user interface and advanced features such as speed and target times. Over 3 million downloads since 2012.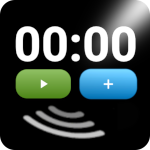 Sports stopwatch with audible speech notification of countdowns, intervals, splits & lap times. All the features of Stopwatch & Laptimer + speech.